Hello everyone!
It's time for our second round of...
The premise of this contest is simple:
1)
It follows the original GDS3 challenges
. You can find the original challenges
HERE!
2)
You only need to design half the cards
compared to the original rules (usually going from 8-10 to 4-5 cards). I adapted the rules accordingly.
3)
A little twist
has been added to each challenge so people who followed the GDS3 can't come too prepared.
4)
No elimination
, you can skip any round or jump in at any moment.
Without further ado, let's jump to the challenge:
__________
HALF-CHALLENGE 2: YOU MIGHT AS WELL TRIBAL
You can find the rules of the original challenge
HERE!
I took them and cut them in half:
THE HALF-RULES:
1) You must design 4 cards.
2) Claim a creature type in the comments. First come, first served.
3) All cards you design must mechanically care about that creature type. They should not simply be the creature type.
3) You must have at least 1 instant or sorcery or enchantment, and 1 artifact or land among your cards.
4) Each rarity must be represented at least once (common, uncommon, rare, mythic rare).
5) You are allowed access to all evergreen keywords (which do not include deciduous mechanics) and up to one non-evergreen keyword if you'd like. Please do not create any new named keyword mechanic.
6) At least two different colors must be used.
But that's not all. To prevent people who already did the full original challenge from having too much of a head start, I added... a twist.
7) You must choose
A CREATURE TYPE THAT DOES NOT EXIST YET BUT WOULD REQUIRE TO ERRATA AT LEAST ONE ALREADY EXISTING CARD
. When you claim your creature type in the comment, please add at least one card that would be changed into the new creature type you created. Some recent example of this is the Dinosaur creature type (formerly a subtype of Beasts and Lizards).
[EDIT] CREATURE TYPES ALREADY CLAIMED:
• PHYREXIAN — bnew07
• BARD — LyndonF
• OFFICIAL — Ranshi922
• PALADIN — ArinSka
• LORD — ouser94501
• CENTIPEDES — Faiths_Guide
• WITCH — pjbear2005
• PIG — Bowler218
• LICH — Temurzoa
• SCHOLAR — bigbadbooknerd
• WYVERN — SmallJem
• GEISHA — Corwinnn
• VIKING — LuckyLooter
• CYBORG — Undead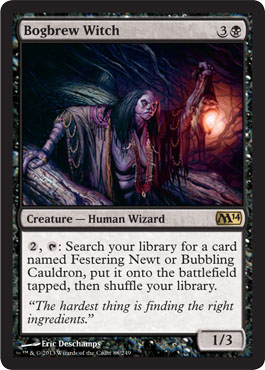 __________
Here are some additional information for the contest:
OLD CARDS ARE:
Allowed, as long as they fit within the restrictions
FORMAT:
Design cards for an undefined Standard-legal set
TEXT-ONLY CARDS ARE:
Allowed, but you must link the illustration that would go with it.
DEADLINE:
Saturday, February 23rd (two weeks from now)
REWARD:
- 1st place — 5 favourites of their choice
- 2st place — 3 favourites of their choice
- 3st place — 1 favourite of their choice
Now remember, this challenge is all about mechanical flavour, find something only your creature type could do and show me how fun it would be to play with it ;) If you're lacking inspiration, I recommand looking at subsets of big existing subtypes like beasts and horrors, or a list of classes from any role-playing game, you should find dozens of ideas ^^
Anyone who wants to participate can now claim a creature type in the comments and don't forget to post at least one existing card that would be changed into this creature type if it really became true. Let the second round of the HALF-GDS3 begin! =D