[RESULTS] Quick Challenge — Make famous people into cards
Hello everyone!

I have a quick challenge for you this week that is going to test your flavour design skills. MTG is full of cards that reference real people and fictional characters from the real world, for instance Hapatra is Cleopatra, Kenrith is King Arthur, etc.
As you guessed, the goal of this challenge is going to take more existing characters and turn them into MTG cards. What makes them unique and recognisable? Turn that into MTG terms!
Here are the detailed rules:
Make an MTG card based on a real person. They can be alive or not but they must be famous.
You must invent an MTG persona for your character. Don't use their exact name and/or an actual photograph of them as illustration for instance, it shouldn't look out of place in a real set.
Up to three entries per participant are allowed.
Old cards are allowed as long as they fit the criteria.
The deadline is on Sunday, May 2nd
Here's an example I made that would be considered a valid entry: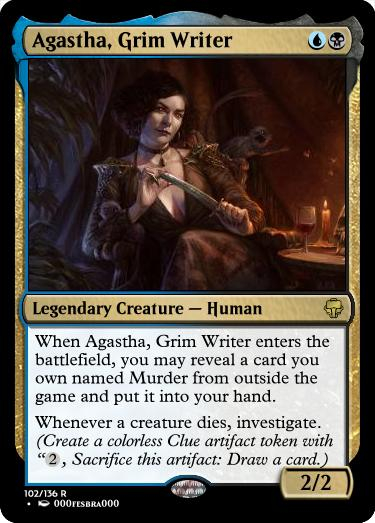 (Did you recognise her? She's based on Agatha Christie, the famous writer of mystery murder stories.)
As usual, I will give some short feedback to everyone who participates. The rewards will be distributed as follow:
1st place: 5 favourites of your choice
2nd place: 3 favourites of your choice
3rd place: 1 favourite of your choice
I hope this inspires you to make some great top-down designs! Good luck everyone