THE DIRE TIMES; Last Breath of Vaevictis Asmadi, PHASE 1 - Mechanic and Archetype desinging
Hello everyone! I've decided to commit myself to a project that will last who-knows-how-long, and this is the discussion where I post all my cards, and everyone can post their ideas and help!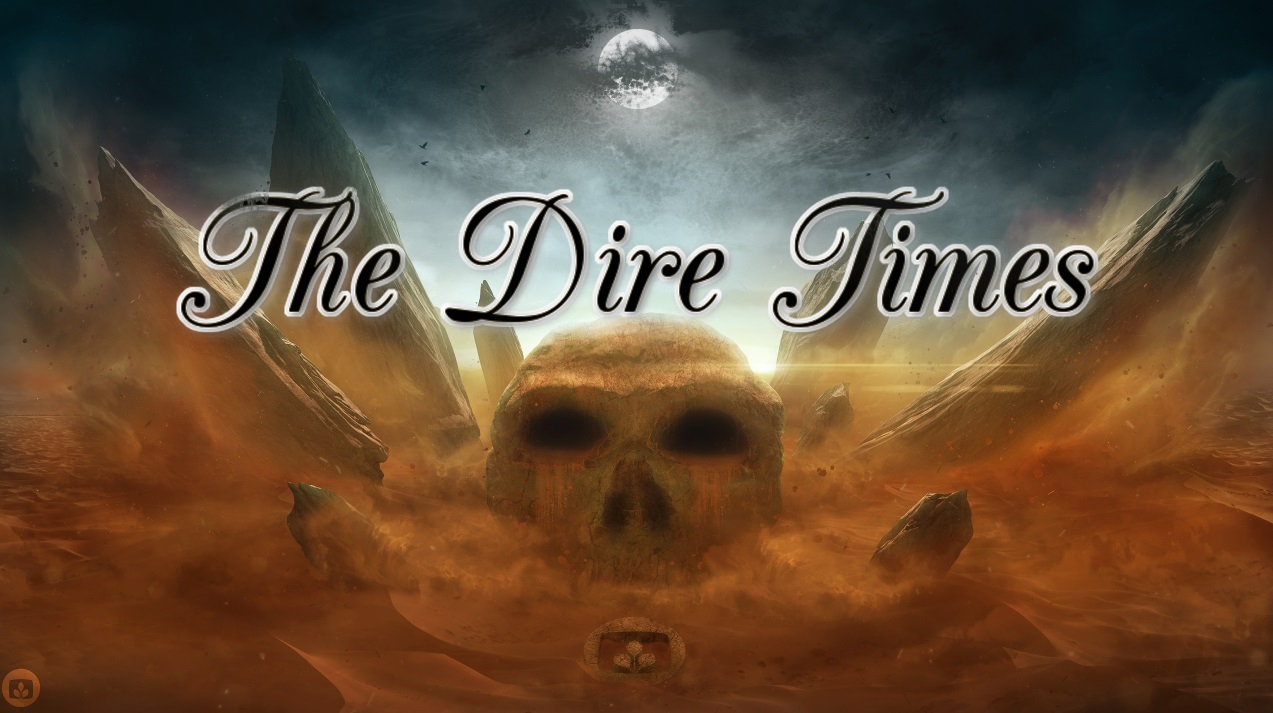 [Such thanks to
@Tomigon
for this image editing!]
Vaevictis Asmadi has used his final breath to turn the world into a barren desert. Talk about going out in a blaze of glory, eh? Anyway, these are the points of the projects-
A way of you having fun and making free-range cards.
A way of ME having fun by making free-range cards.
A way of me improving my card-making by being a little more controlled.
A collection of new mechanics for me (or you) to play with.
A way of improving my terrible card-making skills.
A way of me (and you) using (and playing) with some of my favourite icons in magic.
Just my appreciation of this amazing community by contributing some cool cards.
And now we've gotten through the points of this, let's get into the project itself! Goodbye!
MECHANICS AND KEYWORDS

I-Khan Tokens

CREATURES YOU CONTROL GET +1/+1.
Khan tokens are a new mechanic being introduced into DIRE TIMES. They resemble strength in numbers and the rebellion the Khans incited against the elder dragons. For example-
Return of the Khans creates
THREE
Khan tokens, thus creatures you control get +3/+3
UNTIL
someone destroys one, two or all of the khan tokens. Note that the Khan tokens are green
AND
red.

II-Fantasize
Fantasize is a mechanic that resembles Arcades Sabboth, the wisest of the elder dragons. It resembles looking into the future and seeing what it beholds
OR
it can resembles using imagination. For example-
Rainbow Dragon has Flying and Flash. But that's not all. It also has the mechanic "Fantasize":
(Scry X, where X is the number of cards in your hand.)
Whenever it blocks. Note that this breaks the colour pie if it's in black or red.
III-Rule
This mechanic resembles Nicol Bolas (I'm doing a mechanic for each elder dragon), the most selfish and greedy of the elder dragons. It resembles taking over land and ruling the citizens. For example-
Bolas's Devil has rule.
(Whenever this creature attacks a player, tap up to two target creatures that player controls.)
It also has another ability, but that's not relevant right now. Note that this breaks the colour pie in green and white.
IV-Madden
This mechanic resembles Palladia-Mors, the most psychotic and chaos-loving of the elder dragons. It resembles mindless destruction. Creatures can "Madden" other creatures. Note that when they are "Maddened" they become "Mad". For example-
Mad Tamer has haste and is mad.
(It can't block, gets +1/+1 and attacks each combat if able.)


V-Muted

This mechanic resembles Chromium, the smartest and sneakiest of the elder dragons (As she can turn into humans, so...). It resembles being so sneaky that no one notices your their. For example-
Chromium's Assasin is probably the most interesting of the cards I've made for this so far. It has muted, sure, but it's other abilities are interesting (and worth observing). It creates token copies of itself, which...is interesting as well. AND it toys around with instants. Ah yes, the keyword, reminder text:
(This creature can't be blocked and can't attack planeswalkers.)


VI-Unbowed
This mechanic resembles Vaevictis Asmadi, the most skilled of the elder dargons. It resembles chaotic (yet smart) battles and destruction. For example-
**Edits made to mechanics**