Rezatta Set Design - Uncommons Part 2
Hello everyone!

It's time to refresh the Rezatta thread so people don't have to navigate over twenty pages of discussion xD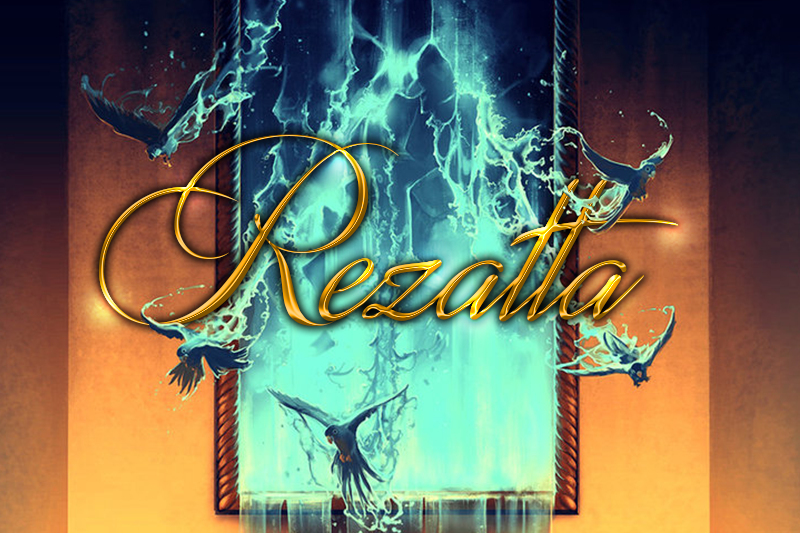 Rezatta is a custom set with a Renaissance flavour and a unique "Life-matters" mechanical core.
This project has been around on MTGCardsmith since 2017:
Luckily, there's no need for you to read any of that as I'm going to summarise it right now

I — THE PLANE OF REZATTA
Rezatta is inspired by Italian Renaissance. Unlike Fiora, Rezatta has not always been in a perpetual state of Renaissance however. Thanks to the recent reincarnation of Serra on the plane, it is now living through a period of exciting change. Among the important markers of this period are:
The Church of Serra —
As the rebirth of Serra brought life to Rezatta, her many followers swarm the plane to spread the word of the Church of Serra and its four cardinal values: Art, Peace, Freedom and Discourse.
Living Art —
On Rezatta, the art is so beautiful that it spontaneously comes to life.
Scientific Progress —
Many renown geniuses on Rezatta invent new life-changing technologies.
Carnival —
Everyone is celebrating the beginning of a new era with dances, banquets and fancy costumes.
Exploration —
Now that the ice is melting, it's time to explore the terra incognita of Rezatta.
Spring —
The rebirth of Serra brought a lush spring, covering Rezatta in colourful flowers and butterflies.
Winter —
A small part of Rezatta is still resisting the change, stuck with cold, dreadful monsters, and ancient heresy.
Humanism —
Many anthropomorphised animals highlight how humans are particularly influent on Rezatta.
Emotions —
Mysterious muses of emotions are roaming the plane, inspiring artists, inventors and explorers alike.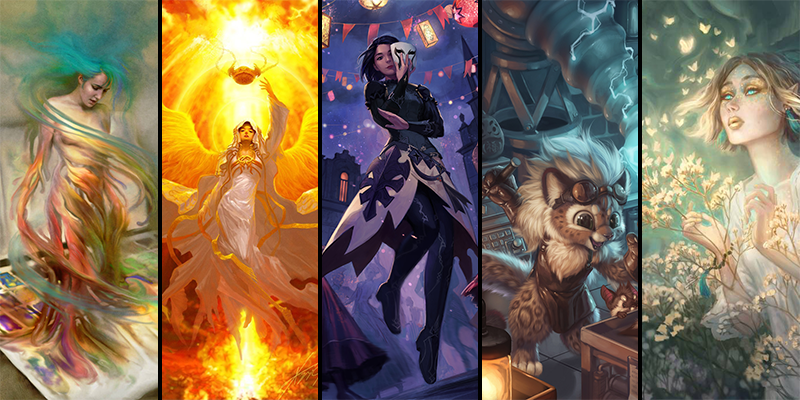 The plot still has to be decided, though we have discussed the appearance of a couple iconic characters:
Leonardo Da Vinci as a genius planeswalker who travels to other planes in search of inspiration.
Mona Lisa as a living painting. She has many secrets, as her smile would suggest.
Serra is an existing old-school planeswalker that was dead, the story will tell of her rebirth.
Eco is a new character from Rezatta. She cannot speak with words, but she uses music to communicate her emotions.
II — KEYWORDED MECHANICS
The main mechanical focus of the set is life. Different archetypes will care about different aspects of life, from your life total to gaining life, losing life, etc. There are four new keywords to support this novel mechanical theme:
1) Renewal — The life-matters glue
Renewal —
If the sum of all life gained and lost this turn is 3 or more, EFFECT.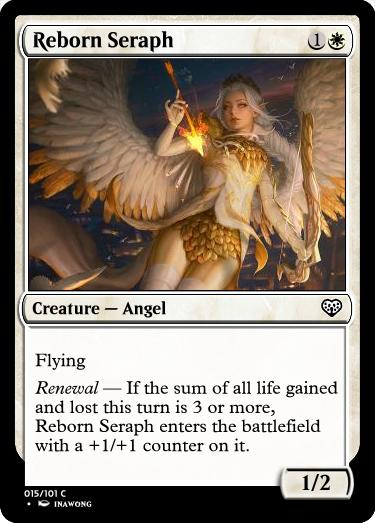 Renewal cares about all the different ways to have life totals change with one mechanic.
Here are some rules point about Renewal:
Renewal sums all life changes that happened this turn regardless of whether they are life gains or losses, how or when they happened, and which players they affected. For instance, if an opponent lost 1 life and you gained 2 life, that's 3 total life that was gained and/or lost this turn, Renewal is enabled.
Renewal counts life gains and losses, it doesn't look at the value of life totals. For instance, if you lose 2 life then gain 2 life, you've gained and lost a total of 4 life this turn, Renewal is enabled even if your life total didn't change!
2) Serran life — A new type of life points
You gain N
serran life
.
(Pay 2 serran life: Add one mana of any color.)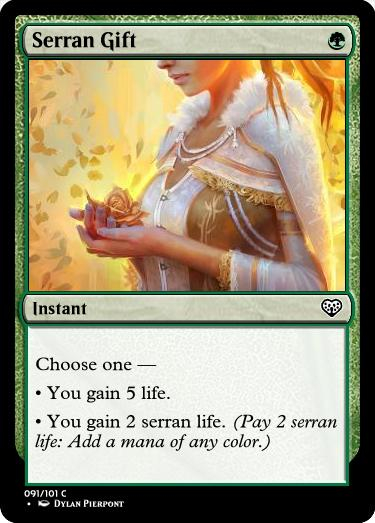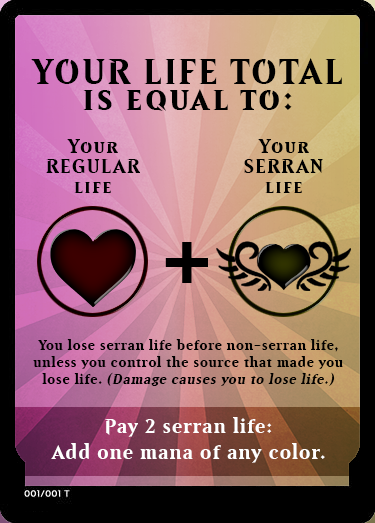 Serran life is the most innovative and complex mechanic from the set. It functions a bit like shield points that you can exchange for mana. Like the Monarch mechanic, it has a reminder token but not all rules are on it.
Here are some of the main rules points about serran life:
Serran life is part of your life total. While it's counted separately, if you have 20 regular life and 2 serran life, your life total is 22. Similarly, you can have 0 regular life and 1 serran life without losing the game.
You may pay 2 serran life at any moment to add one mana of any colour. This is a mana ability that doesn't use the stack, like tapping a land or sacrificing a Treasure token.
You lose serran life first when you don't control the source that made you lose life. This means that your opponent can remove your serran life by attacking you, using damage spell, or "you lose life" effects for instance. Once you don't have any serran life left, you start losing regular life. Think of it like shield points.
You lose serran life last when you control the source that made you lose life. For instance, if you pay life as a cost to cast your spell, you will lose your non-serran life first. Then, if you don't have any regular life left, you will start to pay with your serran life.