[RESULTS + FEEDBACK] Quick Challenge — Mechanics for the Strixhaven Colleges
Hello everyone!

I have another quick challenge for you this week. Most faction sets such as Ravnica used to be designed with one keyworded mechanic to represent each faction. For instance, the latest instalment of the Orzhov, Izzet, Golgari, Boros and Simic guilds introduced us to the Afterlife, Jump-Start, Undergrowth, Mentor and Adapt mechanics respectively.
WOTC just released their new faction set Strixhaven but they took a different, more integrated, approach and didn't create a dedicated mechanic for each college — though they each got a recognisable mascot token. So here's the goal of this challenge: create a keyword mechanic for one of the Strixhaven colleges.
As a reminder, here are the five colleges of Strixhaven, you can learn more about them here:
LINK
.
Silverquill (WB) — College of Eloquence, they care about +1/+1 counters and flyiers
Prismari (UR) — College of Elemental Arts, they care about big spells and artifacts
Witherbloom (BG) — College of Essence Studies, they care about life gain and sacrifice
Lorehold (RW) — College of Achaeomancy, they care about emptying graveyards and spirits
Quandrix (GU) — College of Numeromancy, they care about +1/+1 counters and ramp
___
Here are the
detailed rules
of the challenge:
You must create a card with a keyworded mechanic that you invented for one of the Strixhaven colleges. It can be a keyworded ability, an ability word, an action word, etc.
The card and keywords must blend with the flavour and mechanical themes of the college you've chosen. If you design a BG mechanic for instance, it has to fit Witherbloom, not Golgari.
Up to 5 entries per participant are allowed in total. You can post just one card for one college, five cards with one for each college, five cards for a single college, or everything in between.
Old cards are allowed as long as they fit the criteria of the challenge.
The deadline is at the end of next week on Sunday, May 16th.
Here is an example that would be considered a valid entry: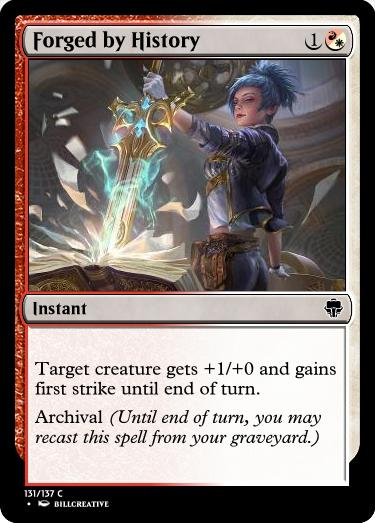 I will give a short feedback on every entry as usual, and the top 3 will be rewarded with some favourites:
1st place: 5 favourites of your choice
2nd place: 3 favourites of your choice
3rd place: 1 favourite of your choice
Designing mechanics is one of the hardest parts of MTG design so take your time on this one

Good luck everyone!